With over 20 years' experience in the field of water treatment, ID Electroquímica, S.L., manufacturer of the IDEGIS salt electrolysis systems and controllers, presents its new range of SALT ELECTROLYSIS and CONTROL SYSTEMS for pools.
The company's manufacturing schedule includes new products such as the automated platform PoolStation and the Neolysis systems, as well as a new salt electrolysis product range for public pools and the new 200/300 series of integrated ORP/pH/free chlorine controllers.

IDEGIS is a whole new concept of pool water treatment that provides improved water quality without the need to manipulate and store dangerous chemical substances. Pool maintenance becomes so much more simple thanks to this reliable and entirely automated water treatment system.

Thanks to cutting-edge technology, we provide money-saving water treatment systems that are safe. The level of comfort and automation will satisfy the most demanding users who will benefit from our IDEGIS systems in terms of water quality, security and facility of use.


PoolStation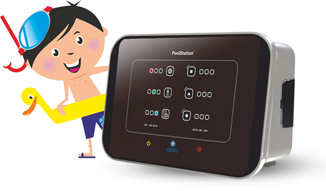 PoolStation is an easy-to-use and intuitive automated platform that will control the functions of all pool and garden units.

This product addresses both professional (pool integration, installation, maintenance) and private users.

With PoolStation, users can control all automation functions using any device, both fixed (computer) and mobile (telephone, tablet, etc.), and from anywhere in the world where there is an Internet connection, thanks to the platform's web services.

With PoolStation, pool automation and managment is as simple as a touch of a button.

The 2012 catalogue presents a wide range of water treatment equipment and control systems that are compatible with PoolStation. Moreover, all equipment from the Domotic Series already installed is compatible with PoolStation.



Neolysis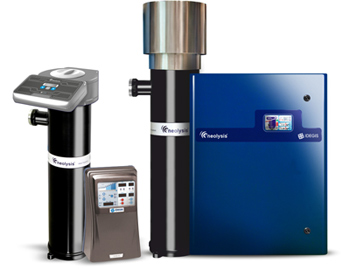 Here, UV technology (low or medium pressure) is combined with low concentration salt electrolysis providing an innovative sanitization and water treatment system (residential and public pools) capable of using the most incredible characteristics and advantages of both technologies as well as correcting their respective defects or limitations.

This single-system combination provides the following advantages:

• Adding salt (sodium chloride) to pool water is no longer necessary because Neolysis technology uses electrolysis.
• Double sanitization (UV-C + Chlorine in situ/Anodic oxidation).
• Increased capacity to eliminate chloramines (UV-C + Cathodic reduction).
• Sustainable technology thanks to water and energy savings. It is no longer necessary to clean filters to reduce (dilute) the concentration of chloramines.
• The synergistic treatment is interesting because of its residual oxidative capacity.
• This system enables the addition of salt and chlorinated products (hypochlorite, chlorine tablets, etc.) to be completely avoided.

200 Serie

300 Serie

Salt Electrolysis for private pools
DOMOTIC Series

Salt Electrolysis for private pools
TECNO Series

Salt Electrolysis for spas

Salt Electrolysis for public pools
EX Series