PROCOPI offers a perfect spa experience through its Thalao range. In its 3 models, everything has been designed for user-comfort, whether it is the compact Thalao ST 2.18, with 2 seats, or the largest, the ST 4.31, accommodating up to 4 people.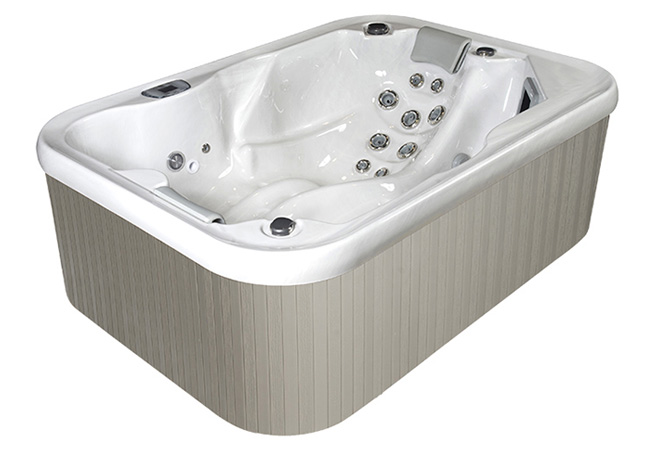 Designed stainless steel jets with their myriads of bubbles provide targeted massages from the body to the soles of the feet (optional feet nozzles) to its recumbent occupants, their necks resting on a pillow.
With fingertip control using the BP 601 panel, the user can regulate at will powerful or relaxing massages, a soothing waterfall, or even, optional with the «blower» version, aero-massages for total relaxation.
The experience would not be complete without the benefits of chromotherapy, in an atmosphere bathed in the 10 colours of lighting available: slow or fast changeover, random blending ... according to one's desires. The virtues of aromatherapy merge subtly with the whole array dedicated to well-being, proposing several fragrances to choose from, to invigorate or to soothe the body and the spirit.

To ensure optimal insulation, Thalao spas have been equipped with the F.A spa system, consisting of a 6 mm thick aluminium-coated antibacterial felt. With the offset kits (exclusive) the decks of the built-in and portable spas can be moved up to a distance of 7.5 m.
Blower, heater, ozonator, two-speed pump and remote massage pumps thus moved further away provide perfect silence for relaxation in the spa.


The spa shell, with a 5-year guarantee, is in marbled white with a grey composite cabinet. The plumbing components are guaranteed for 2 years.
Dimensions: ST 2.18 (2 seats) 198 x 141 x 66 cm / ST 3.17 (3 seats) 213 x 168 x 80 cm / ST 4.31 (4 seats) 200 x 200 x 80 cm.