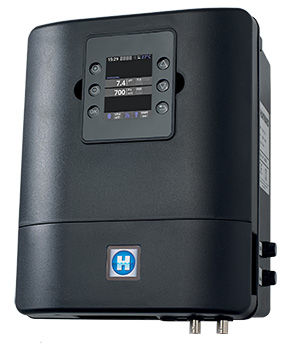 In the era of the connected pool, HAYWARD also makes its contribution with its Control Station.
Being able to remotely control and manage the pool's parameters 24/7 is an additional convenience that can be enjoyed by both private pool owners and professionals in charge of pool management.
It ensures quality water treatment and ideal water temperature at all times.
In addition to remote management of pH and Redox, regulated by the injection of disinfectant (liquid chlorine, bromine, active oxygen, etc.), the peripheral equipment of the pool can also be controlled: conventional filtration or at variable speed, lighting, heating and two more devices that can be connected to the four auxiliary relays and one 230V relay (outdoor lighting, water features in the pool, or others).
Equipped with a Wi-Fi module, the Control Station can be managed remotely through the Hayward Poolwatch application (Android and iOS), on which the owner or the pool maintenance in-charge receives alerts in case there are deviations from setpoint values, and will then be able to set the parameters for the injection of the product needed to maintain water balance.

The easy-to-install device comprises: the control box, the Sense & Dispense module with the temperature sensor and two peristaltic pumps for measuring and regulating the pH and the ORP, the Wi-Fi module and, optionally, a free-chlorine sensor.

With this device, water treatments are always adapted to requirements analysed in real time, the quantities of products used are consequently reduced, and shock treatments are avoided.