Integrating Inverter technology, the Serenity Inverter heat pump automatically adapts the rotation speed of its compressor and fan to actual pool heating requirements and weather conditions.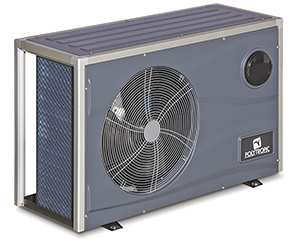 The heat pump changes its mode without user intervention, depending on the changes in the temperature of the pool and adapts them accordingly. To do this, it has 3 operating modes: BOOST, SMART and ECO-Silence.

The first uses 85 to 100% of the heat pump output to ensure a rapid rise in temperature.

In Smart mode, the power and sound levels automatically adjust to the ambient temperature and pool water temperature.
The Eco-Silence mode focuses more on the COP and sound levels, where the compressor and the fan run at low speeds.

Thanks to these operating characteristics, the Serenity Inverter heat pump has very low noise levels, as well as efficiency that is optimised by 30 to 40%.

POLYTROPIC offers three models: The Serenity S Inverter for pools of less than 60 m3, the Serenity M Inverter for pools up to 80 m3 and the Serenity XM Inverter for larger pools.