The SCP's exclusive STONEFLEX lining offers a «natural stone» look in 2 new 3D colours, Jasper Sand (beige) and Pearl (grey), in addition to its Gris Bazelet (slate) colour.
Jasper Sand Pearl Gris Bazelet

It is coated with a special improved varnish that adapts particularly well to the 3D effect and also ensures increased resistance to stains and UV rays while making maintenance easy. This liner is resistant to water temperatures of up to 35° C.

It is sold in rolls of 1.65 x 25 m, each one covering a surface area of 41.25 m².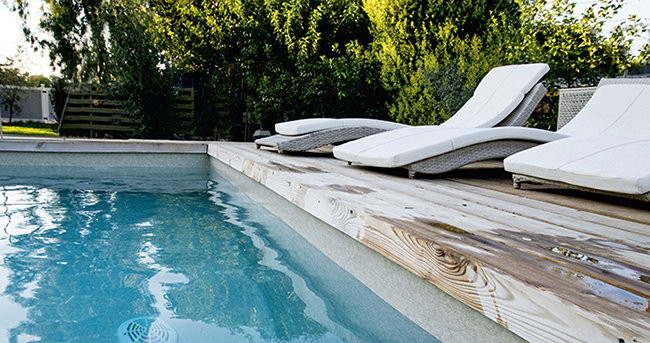 Eight colours are available to match the three 3D models for the sections covered in non-slip liner: white, sand, light grey, dark grey, light blue, deep blue, navy blue and Caribbean green. These are available in rolls of 8.25 m² (1.65 x 5 m).

More resistant than the standard range, it offers a full 15-year guarantee; 5 years for stain resistance and 5 years for chlorine stability.

The stability and durability properties comply with the European standard NF EN 15-836-2.