The AquaJack™ 301 is part of NINGBO POOLSTAR's new line of patented electric vacuum cleaners, which comprises 3 models.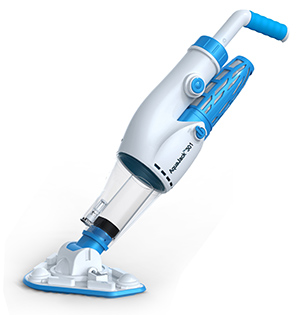 Aquajack 301
Designed for large aboveground or in-ground pools, this model is equipped with a large swivel head (30 cm), designed to clean corners, stairs, slatted covers, etc.
For more difficult corners, one has only to remove the head and it uses the high capacity suction straight mouth.
It works on a rechargeable lithium battery (5,000 mAh) and stops automatically as soon as it is taken out of the water.
As options, a leaf trap and a connector can be attached, which will allow the vacuum cleaner to increase the capacity of the filters with the 5-liter leaf trap on the one hand, and on the other hand, the suction capacity, by coupling the motor of the vacuum cleaner with that of the pump.

The AquaJack™ series is available in 3 models adapted to every type of spa and pool:
• the AquaJack™ 121, for spas and small pools,
• the AquaJack™ 211 for spas, small and medium-sized pools,
• the AquaJack™ 301, for medium and large-sized pools.

These 3 hand operated vacuum cleaners can suction both debris and fine dirt.
They can be handled using the ergonomic handle or a telescopic handle connected by a standard clip.
| | |
| --- | --- |
| Aquajack 121 | Aquajack 211 |