Here are some of the new products that visitors will discover at SPATEX. Those information are provided by the organizers of SPATEX.
Aqua Spa Supplies (B66), the home of spa accessories: the clever Grip O Cooler - a wine cooler with suction feet and a glasses tray.

Aquavia (C52): the elegant Origami and Touch hot tubs and the Swimspa Duo which, as its name suggests, offers two separate spaces, which allows the features and water temperature in each to be controlled separately.
Origami spa
Ardex (D66): ARDEX X 60 PU Flex tile adhesive solution, designed for tiling fibreglass swimming pools.

AstralPool (E50): a new venture with Hanovia UV treatment for pools and spas, "Blue Connect" Smart Pool Analyser; updated range of standard and inverter driven heat pumps with full remote connectivity plus lots of Show offers.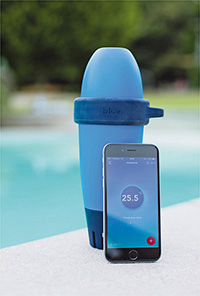 Blue Connect

Bluewood (F10): the ingenious Lift'O movable floor. Eco-friendly, it operates on air pressure and can be retro-fitted or newly installed to most pools.

Calorex (C14) has undergone a name change to Dantherm Ltd: the Master mobile dryer for drying building materials and the new heat pump which will be sold through its exclusive UK distributor, Certikin International.

Certikin International (D10 & D14): the innovative Tieleman moving floor that has proved a huge success across Northern Europe. The floor can be submerged to any depth and can even feature a slope. It's just one of many new Certikin launches for 2018.

Tieleman moving floor

Darlly Europe (H11): SaniStream Direct Line filtration system, which is designed to be install in the centre of an adapted Darlly filter cartridge so that dosing is inline and continuous whenever the spa is in a filter cycle or in use - satisfying the key demands of HSG282 compliance.

Fairlocks (B50): the Puriq, which is a simple to install UV water purifying system. Using the latest technology, the lamp emits powerful UV-C light with a wavelength of 253.7 nm; it kills practically all bacteria, viruses, algae and mould.

Golden Coast (B18 & B32) is promising a big mystery launch which will only be revealed on the first day of the Show!

Heatstar (E58): the new look Andromeda environmental control system for domestic use and the revamped LYNX energy management system.

Hexagone (F34): fresh from cleaning the Olympic sized pool in the European Short Course Swimming Championships in Copenhagen, the new vacuum robotic cleaners Peps and Chrono.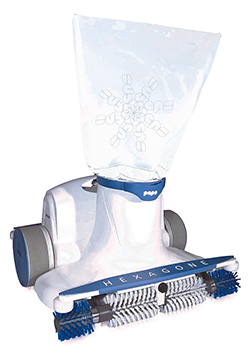 PEPS robot - Hexagone

Lonza (E63): Fi-Clor Premium 5 Easy 200g chlorine tablets in water soluble wrapping.

Lovibond (E16): its environmentally friendly "Green Chemistry" tablet reagents - 100% free of boric acid. The company is inviting visitors to pit their wits and ask the most difficult water treatment question they can think of, for entry into a prize draw.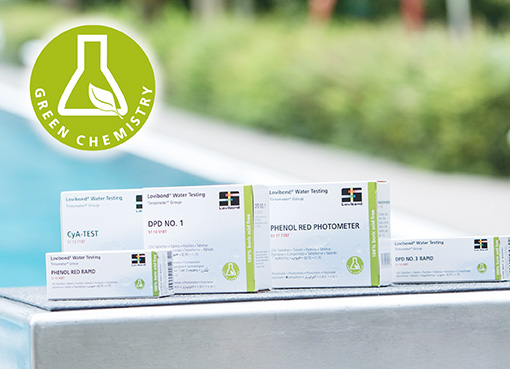 Lovibond tablet reagents

Niveko (C16): the Beach Design slatted cover which features a removable top cover and can serve as a bench seat or even a small shallow area of the pool.

On-site Pool Linings (B33): stunning new patterns and colours.

Pool-dek (A17): Swim-dek, designed with swimming teachers in mind. Swim-dek is a strong, safe and linkable platform used in the pool to provide a shallow zone in deeper water. It requires no tools to install and includes varying height legs, a deck and safety handrail.

PoolDesign (H3): the new interlayer features 3D graphics (even holiday snaps can be reproduced on the steel casing). The special surface coating is weather and UV-resistent.

Pool Water Treatment Advisory Group PWTAG (G36): the third edition of the PWTAG Swimming Pool Water book written by Brian Guthrie. One third longer than the 2009 version, it's packed with essential guidance on maintaining high standards in the pool industry.

Riptide (D70): the new Turbo Swimjet featuring 3" plumbing for increased water flow and, being baffled, removes water turbulence.

Softub UK (F58): the new Poseidon hot tub not only comes in a new exclusive colour and finish but also features a new jet and program system.

Spatech Training Stand (B59): new SteelCore spa security and storm straps.

STA (F21): the Level 3 Pool Plant Operations qualification, with user-friendly, technically advanced syllabus. Covering all aspects of running a modern pool, spa or interactive water feature plant, the content follows PWTAG guidelines and the new National Occupational Standard SKA PPO1.

SwimSafe (A19): the new Coloured Retro winch featuring one piece of anodised aluminium and a clever interlock system in a variety of colours.

The Mosaic Company (C34): new tiles.

VitrA Tiles (H7): a beautiful new black edge and over glazed white tile. Visitors can pick up a handy samples folder.