The Zodiac RV5480 iQ robot, unveiled at international autumn shows, is a combination of the manufacturer's innovations in pool cleaning.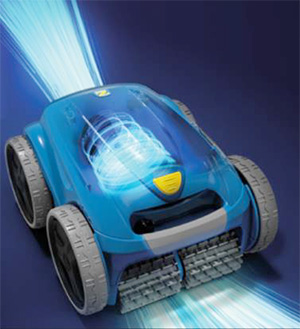 The cleaning process can be launched from anywhere using the pool owner's smartphone, for example, to prepare the pool for swimming even before reaching home.

This robot is equipped with all the advantages of the Zodiac VORTEX PRO 4WD series, meaning, first and foremost, the very powerful and continuous cyclonic suction technology, reducing filter clogging to maintain peak performance during the entire cleaning cycle of the robot. It is also equipped with 4-wheel drive, for optimal adhesion to the walls of the pool, regardless of the pool coating.

Its Lift System makes it easier to take it out of the water, thanks to its powerful rear water jet that evacuates water as soon as it is lifted out of the pool.

Its anti-tangle cable (System Swivel) minimizes twisting when the robot is in operation.

Using the interface of the smartphone control app, the user can start / stop the cleaning cycle, check the selected cleaning mode, increase or decrease the cycle by 30 minutes, verify the degree of clogging of the filter, trigger the Lift System, etc., and especially control the robot in the pool as though with a joystick.