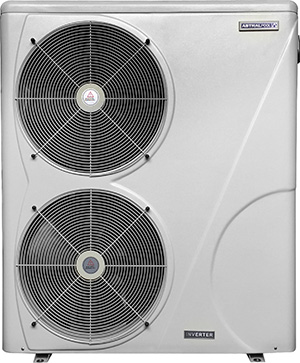 AstralPool proposes for the 2018 season a new efficient and silent solution to heat or cool the water in outdoor residential pool all year around. Its air-water Pro Elyo Inverboost NN heat pump is labelled with the A power rating (the top rating), as it is able to heat pool water with a consumption of up to 33% less than a conventional heat pump.
How is this possible?
Thanks to the inverter technology that the heat pump integrates! This proven technology allows the Pro Elyo Inverboost NN adapting the rotation speed of both compressor and fan to heating requirements and real weather conditions. The power settings are automatically changed so that the heat pump runs at optimum efficiency levels, thus achieving outstanding performance in the most adverse weather conditions.

This heat pump has a soft starter to prevent current surges when the compressor starts up. In addition, it is designed to work in cold climates in outdoor air temperatures as low as -20 ºC.

Various models are available, with various power modes, for pools from 10 to 160 m3. As the user's choice will depend on the size of the pool and the local climate, AstralPool puts at disposal an online configurator, so that the dealers can calculate the best option for each pool (in the Professionals menu of the website).

As the heat pump has a Modbus connection, it can be connected to the Fluidra Connect platform to benefit from a connected heating or cooling of the pool.