The new AQUABOT RC app with a Bluetooh connection allows controlling the AstralPool's H7 Duo pool cleaner from any mobile device.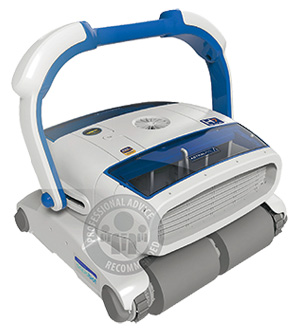 Each Smartphone can become a remote control that makes it possible to direct the robot, set the start-up time, programme different cycles, define the pool's shape, receive alerts in case of full filter and to see relevant information about the pool cleaner's status, such as the length of time it runs, the voltage, power supply, etc.
H7Duo App is the leading model of electronic pool cleaners provided by the brand. Featuring the most advanced, state-of-the-art technology, it is part of the top-of-the-range robots for residential pools of up to 100 m² (it cleans walls, water line and floor).

Among its advantages, the robot has a built-in transmission system that combines two traction motors and a suction motor in a single block. Thanks to this innovative system that runs on gears, every movement made is of unmatchable reliability and efficiency.
H7Duo App is also equipped with the Gyro Navigation and AquaSmart® systems so that it takes the shortest way across the pool shell and automatically adjusts to its shape and specifications. These systems deliver a thorough clean in every cycle, avoid all types of obstacles and prevent the power cable from getting tangled.

The range of H Duo robots comes with a 3D filter that cleans up to four times better than others. Their PVA brushes adapt to any surface, and their adjustable nozzles enable them to absorb heavier particles. There is also a central vibrating brush to scrub any dirt before vacuuming it up.

For easier maintenance, the H Duo robots are equipped with a LED indicator that shows when the filter is full. Their transparent window on the filter makes it possible to see the level of dirt in. In addition, the top access to the cartridge keeps users from coming into contact with the dirt.