Pentair introduces its new booster pump for pressure cleaning of swimming pools, available in 2 powers of 1 and 1,5 HP.
BlueFlo® incorporates a new innovative design of hydraulics, combined with the Logic-SafeTM function.
BlueFlo and BlueFlo Lite
This technology protects the booster from dry running, motor overload and water temperature overheating. In order to obtain maximum pressure, the booster has a multi-turbine design, guaranteeing 50% more pression than the previous pump generation, for optimal cleaning power, while being quieter. The body of the pump is in PP reinforced with fiberglass, the motor shaft is made of stainless steel AINSI316, corrosion resistant, and the turbines without metals.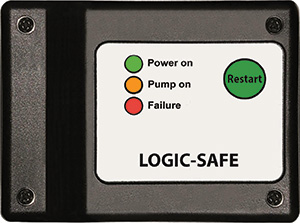 BlueFlo panel with LogicSafe
BlueFlo has also a saltwater resistant (0.4%) design. Its oversized sealed RSC bearings provide high thermal resistance.
The ON/OFF switch is integrated and the main cables are supplied, for easy and safe installation of the device.
This booster pump is also available without the Logic-SafeTM feature under the name BlueFlo Lite.