DIASA INDUSTRIAL, a company of the Farove group, is a Spanish manufacturer reputed in the chemical sector and dedicated over the last 40 years to the research, development, production and marketing of chemical products for various sectors.
Its research projects transcend borders, for it coordinated the POOLSAFE* project funded by the European Union.

On its stand, the company presents its range of chemicals for professionals and the general public, as well as a collection of accessories one needs for the maintenance of pools and spas.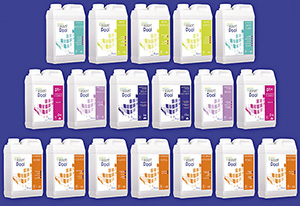 Among them is the new range of AVANT POOL chemicals presented in exclusivity.

This range is aimed at solving to the problems specific to each pool, with products presented in 1.5 litre packaging, so that only the amount required to treat the problem is used.

This new range includes flocculants, a clarifier, algicides, brightening agents, a wintering product, a phosphate remover, an anti-limescale, and a metal sequestering agent.
The company's approach is international, innovative and committed towards its clients.
Its strategy for international expansion continues to be successful, whether in Europe, Latin America, the Middle East or Africa.

* POOLSAFE: A project bringing together SMEs engaged in Research and Technical Development located in France, Spain, Ireland and Portugal. The research aims to reduce the environmental impact resulting from pool maintenance.

To be discovered at PISCINE GLOBAL 2016 in LYON
Stand 4G114