The 40-year anniversary of spas from Caldera® Spas are marked this year, among others things, by the fully revamped design of the UtopiaTM series. This one comes with elegant and appealing lines and enhances the comfort that already existed in the 4 spas of the range: CantabriaTM, GenevaTM, NiagaraTM and TahitianTM AMS.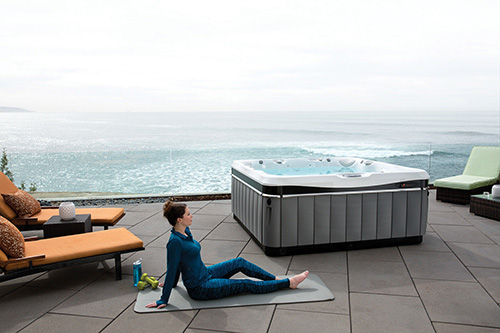 The most striking feature is the new AvanteTM cabinet, suitable for all climates, crafted with long-fibre technology.
Besides its avant-garde aesthetics, it provides the spa with a very solid and durable exterior, mildew resistant and guaranteed against cracking and chipping. The four spas, designed for 6, 7 and 8 users, are fitted with 74 relaxing jets. Jets that have been specially designed to ease stress, relieve tired muscles, and offer total relaxation to the body and mind.
In addition to comfort, this series also features technological innovations, such as: The Easy AvanteTM LCD control panel, easy to use, with intuitive adjustment of the jets and lighting options, etc.; The CD ozonator system is installed as standard on all models, for reduced and simplified water maintenance; lighting integrated into the 4 corners of the spa; elegant black panelled covering and low base plate, to enhance the spa and protect its internal components; filter grilles that reduce the noise level to the minimum.

To be discovered at PISCINE GLOBAL 2016 in LYON
Stand 4E128