On the POOL TECHNOLOGIE stand, customers and visitors can discover the flagship products of the company, which is celebrating its 25th anniversary at the exhibition.
A large area is dedicated to new products and demonstrations, presenting the company's major projects for the 2017 and 2018 seasons.
Launching into a new era since its new structuring and the arrival of new talents, this SME has been able to build an ambitious development project.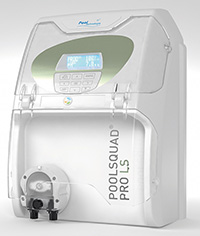 POOLSQUAD PRO LS
Among the products presented is the POOLSQUAD PRO LS, a latest-generation salt chlorinator. It features Low Salt technology, which reduces salt needs by 3.
In fact, a low salt concentration (from 1.5 g / l) is sufficient for optimal disinfection.
This eco-innovation, even more respectful of the environment and equipment, is particularly recommended for pools that are susceptible to corrosion.
Always committed to an eco-design approach and combating planned obsolescence, this device combines the best of technologies and components while reducing their environmental impact.

Riding the trend of communicating and connected devices, the manufacturer is also introducing an intelligent tool for remote setting of parameters, e-pool.
For increased comfort of the users, the equipment of POOL TECHNOLOGIE's PREMIUM range can now be remotely controlled easily. A feature that is not without benefit to pool constructors as well, for they can manage their swimming pools remotely and thus optimize their interventions.

The exhibition is also an opportunity to unveil a preview of other innovations that will be marketed by the company by 2018 and for which several patent applications have been filed.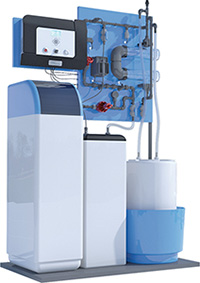 PURE CHLORE
In parallel, POOL TECHNOLOGIE and HEXAGONE are sharing a common stand, dedicated to the presentation and demonstration of PURE CHLORE, 2nd generation.
This in situ chlorine generator is revolutionising the treatment of public swimming pools because it removes the risks associated with transport and dangerous chlorine storage, pollution of the environment, manual-handling risks by the maintenance staff, and risk of confusion between canisters of chlorine and acid.

Since the chlorine is easily produced on site, it does not need any packaging. Highly efficient, the system produces sodium hypochlorite in a storage tank. The required dose is then automatically injected into the pool without manual intervention.
Recognized by professionals as the alternative to chlorine tablets, the pure chlorine produced eliminates chloramines in the pool and respects the health of the swimmers at the same time.

To be discovered at PISCINE GLOBAL 2016 in LYON
Stand 4G33