Zodiac® is present at the Piscine Water Tests area, demonstrating several of its products in real-life situations.
For the occasion, two complete machine rooms fully equipped are installed. Pool builders can meet there the key members of the training staff and engineers from the manufacturer's R & D department.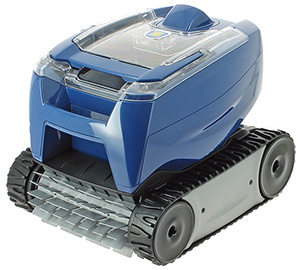 TornaX™
In parallel, Zodiac® also exhibit its new products on its stand, including the TornaX™ robot.
Weighing only 5.5 kg, it is one of the lightest robots on the market.
Thanks to its smart navigation system, the robot covers the whole of the pool to provide optimum cleaning.
It is equipped with a brush function that rapidly loosens the debris before it is suctioned off.
Another advantage of the TornaX™ is its easy-to-clean filter that avoids direct contact with the dirt.

As regards the new hydraulic robot MX9™, the vigorous scrubbing action of its brushes eliminates algae and debris of all types and sizes.
Connected to a suction power outlet, this robot ensures complete cleaning of the pool, whatever its form or surface.
With its pre-programmed X-Drive navigation system, it moves automatically and navigates every possible change of direction in no time at all!

To be discovered at PISCINE GLOBAL 2016 in LYON
Stand 4D122