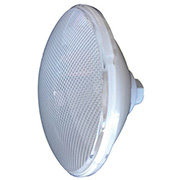 This lamp was entirely developed by Alphadif under the SeaMAID brand and is a universal size, allowing for easy installation within all projectors available on the market, replacing a 300W incandescent lamp or LED.
Made of polycarbonate, the optical component is traditionally welded by rotary friction to the body of the lamp forming a single piece that is resistant to both UV and treatment products.

Installation advantages

The SeaMAID Ecoproof lamp, when integrated into a projector, saves in both materials and labour by eliminating the rear bell, lamp seal and cable gland, and reducing the number of stainless steel screws.
A specific screwable wedge simply holds the lamp within the projector's O-ring.
The cable connection is identical to a traditional system.

Renovation advantages

If you renovate the pool, the projector recess does not necessarily need to be replaced.
Using the existing O-ring, just add 3 adjustable metal brackets when screwing the lamp into the O-ring and reconnect the pre-existent cable. This solution is universal and compatible with all PAR56-type recesses on the market.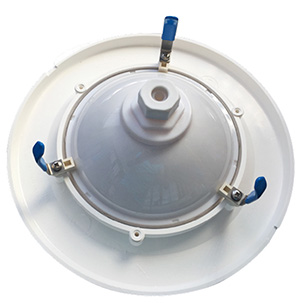 Replacement advantages

The SeaMAID Ecoproof lamp provides two options in this context:

Traditional replacement – reassembly reuses all of the projector's parts, while replacing the old seal and lubricating the back of the lamp to facilitate placement before screwing.

Ecoproof replacement – reassembly uses only 3 of the original screws to hold the wedges provided with the lamp (it is recommended to keep any parts necessary for any subsequent reassembly of a traditional lamp).
The PAR56 LED ECOPROOF™ lamp is an EU trade mark.

To be discovered at PISCINE GLOBAL 2016 in LYON
Stand 5B18