In order to simplify task management for pool specialists, in face of increasingly sophisticated requirements in terms of results and organisation, PoolCop and its server application PoolCopilot, provide an array of new functionality.

These new tools also open up new business development opportunities by integrating the concept of "bespoke service".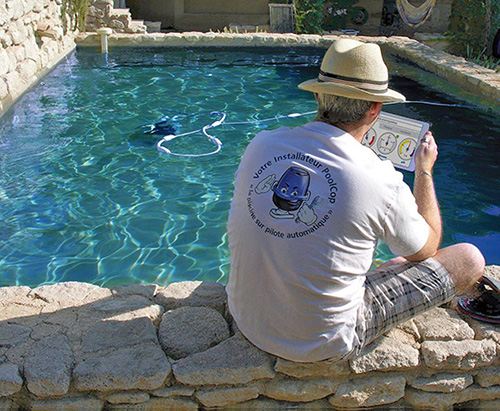 Integrated Water Analysis (in collaboration with Dr Xavier Darok from SCP and ACTI Chemicals) allows the professional to obtain a detailed list of treatments necessary to rebalance the pool water.
This requirement comes with precise dosage instructions.
This analysis is then recorded within PoolCopilot for possible future needs.
The integrated Pool Health Book has been created to meet the specific needs of public pools.
It allows for automatic recording of additional data at selected hours of the day, which the pool specialist can recover at any time during the application schedule.

Finally, Navigation Live, based on GPS and pool geolocation of the grounds under management, allows the pool specialist to no longer waste time during their work.

Thanks to active Waze navigation, they have access to trips they need to make in one click from the mobile version of the application.

These powerful functions make pool management that much simpler and add value to the customer service offered by the pool specialist.

Discovered at PISCINE GLOBAL 2016 exhibition in Lyon