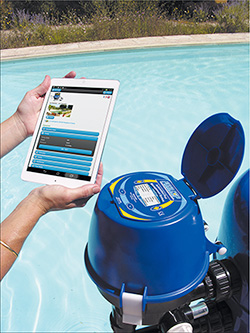 POOLCOP has proven to be a valuable tool for pool builders. Automation, and especially the remote management of pool equipment, allows them to monitor their pool sites in real time on a daily basis.
They therefore do not need to go and visit their sites except when it is really required, thanks to instant alerts sent by e-mail.
The historical data specific to each pool, with readings and changes in settings, are of crucial help. Now the end-user has also a limited right to access certain data.
PoolCop has also added a very practical option for saving configuration settings. The device is now compatible with any type of filter, as well as the new generation variable speed pumps, allowing one to control them remotely.
The function for management of maintenance teams has newly been built in. The pool builder can edit, for example, a list of tasks or routes, plotted on a map allowing him to optimize work and travel time for his employees.