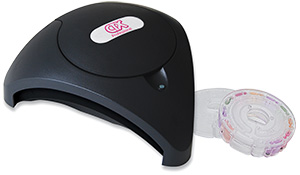 With Water Link Lab, tests can be carried out in 60 seconds in 3 simple steps, analysing up to 10 parameters from a single sample, in one reading, and giving a more accurate result than measuring with test strips.

Insert a water sample in the reagent disk, and the Water Link reader will automatically transfer the information to the DataMate software.
This IT program, used to manage analyses and recommendations, enables each client's history to be reviewed and downloaded from the database. Thus providing personalised and exclusive treatment for users and owners of swimming pools and spas.