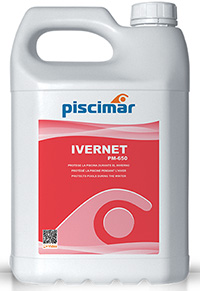 Under the Piscimar brand name, Bonet Especialitats Hidroquímiques presents its universal winteriser, PM-680 Iverliner, suitable for swimming pools with liner and saltwater electrolysis.
This product protects the swimming pool throughout the entire winter from algae and deterioration in water quality, and also prevents a build-up of limescale and dirt on the liner and fibreglass. Contains no metallic ions which can mark or stain.
For other pools, i.e. without liner or salt electrolysis, the company recommends PM-650 Ivernet (Total Protection). This product prevents the formation of algae, deterioration in water quality, and build-up of limescale on walls, and also makes cleaning the swimming pool easier in spring.