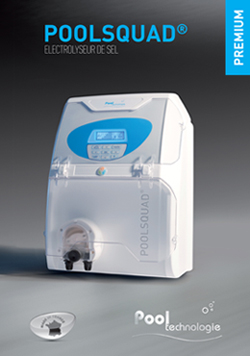 In 2013, the POOLSQUAD electrolyser acquires a feature that is exceptional on the market: the SMART REVERSE.
The device continuously measures the hardness of the water through an innovative technology that led to the filing of a patent.
The hardness measured is used to determine optimum inversion time: short enough to prevent scale deposits in the electrolysis cell and long enough to protect it from premature wear. The lifespan of the electrolytic cell is thus significantly increased.
The electrolyser still has the advanced features that earned it the POOL ECO ATTITUDE 2010 trophy: chlorine production that is impervious to temperature or wear of the cell, progressive polarity reversal with memory, predictive pH regulation that saves on corrective products, a « low mode » protection or « super chlorination », wintering and automatic reactivation, self-diagnosis to verify proper functioning, a record of events for the month, an interactive interface with a choice of 10 languages, a pH sensor with an amazing lifespan, an extended warranty of 2 years offered for the cell...
It should be pointed out that the model POOLSQUAD AMPERO provides, in addition, controlled production using an amperometric sensor. Thus equipped, the electrolyser produces the ideal quantity of chlorine for the greatest respect of both swimmers and equipment. A real alternative to colorimetry, amperometry has the advantage of being more environment-friendly and economical to use (no reagents).
All these features combined place POOLSQUAD firmly in the forefront of high-end electrolysers. A new sales tool has just been launched: ask for it!