Maytronics has launched several new products its 2013 catalogue, including several in its Aqualife Hydro above-ground pool cover range.
The pool cover has a hydraulic motor that uses water from a hose connected to the domestic supply, with the water powering the winding/rewinding motor in the most environmentally friendly way possible. In the above-ground or submerged version, the motor is guaranteed for five years.
The cover is now available without limit switches, in the form of the Hydro inside Basic model. Like the original model, it is suitable for existing pools or new builds.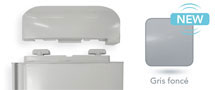 A new range of solid slats in expanded PVC, Smart line, is also available with four colour choices to perfectly match the pool. A new dark grey colour is also offered for slats and seals.
New anti-corrosion safety clips, the Easy clip, which has three colours to choose from, for coordination and discretion, and also for improved ergonomics with a reversible right or left handed system.
A new portable above-ground range has also been launched with a rail guide system, ideal for pools with rounded or canted corners enabling you to enjoy the pool deck.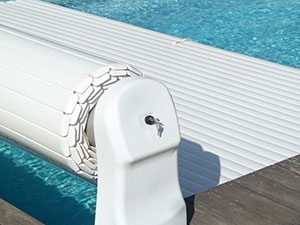 Last, but not least, new integration solutions are available in the submerged version, with slats integrated at the pool end, seats, immersed slats or special installations for very high water levels. Aqualife covers are still made to measure under strict quality control at Maytronics France's industrial production site at La Ciotat, and fully comply with NF P90 308 standards.
--> Maytronics is also offering new logistics solutions, including split packaging for ease of unloading, tracking for shipments, and an on-board trolley for every delivery.
| | | |
| --- | --- | --- |
| Attaches Easy Clip | New safety Smart Line | New catalog 2013 |