Regal Spas, one of the leading companies in hydrotherapy, has reinvented the massaging process and its benefits to spa and hot tub users. In addition to the water jets, the bathers can now enjoy in a spa equipped with a patented non-electrical, water driven, massager.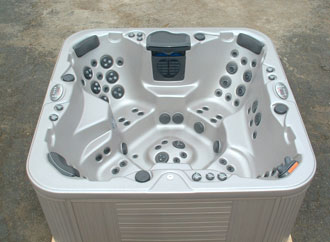 The Caesar spa is equipped with 5.5KW Titanium heater, dual digital control panels, 4 jet pumps, 5 motor coolers, Air blower, 16 massagers, 108 water jets, Mega eSaver software, corrosion free Manifold, Chlorine Salt Generator, Ozonator, 8 water proof speakers, Marine grade stereo system and 50 Leds.
Regal Spas designs and manufactures all the support systems of its spas. In the Caesar spa, setting a homogenous hydraulic system consists of pump(s), heater(s), filter(s), tubing, water jets, water manifolds, heater manifolds, air bleeder, variable-flow water valves, waterfalls, digital controls and massagers. Regal Spas design and produce them all. We do not depend on hot tub vendors for these valuable components.