The company SRBA innovates with the manufacture of «pool border curtains» that do not require cutting when an above ground slatted cover is installed.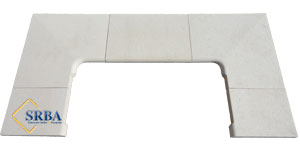 Since the safety standards for pools became more stringent (protective barriers, alarm systems, pool covers or pool shelters), the sales of above ground slatted covers increased considerably and soon gave rise to a dilemma: the shaping of the pool border.
It general, traditional pool borders are poorly adapted to this equipment and it obliges pool fitters to cut them in order to allow the slats of the cover to slide out during operation. This results in a considerable loss of time and is not pleasing to the eye.
The solution was provided with the design and manufacture of a «pool-border curtain kit» consisting of 2 corners and 2 borders. It is now available in the Sahara series, and will soon be available in the Slate and Trianon ranges.