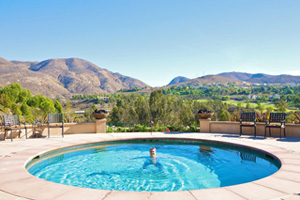 Certikin International's new Hidden Water Pool is hailed as the complete answer for those who are short on space or are seeking the ultimate in safety.
The American design comprises a pool shell that includes a platform that is raised or lowered on a column mounted in the floor of the pool. When the pool is not in use, the platform is at deck level, supported by a series of stabilising legs.
When the pool is in use, the hydraulic cylinder drops the platform to any required depth below water level, allowing it to become anything from a shallow paddling pool to a full-scale swimming pool. The water can drop to a depth of 5ft 6in in two minutes.
When the platform rises, the water flows into a gap between the platform and the edge of the pool. When the platform reaches deck level, the gap closes by means of a slightly cantilevered coping that seals against the platform's narrow rubber flange.
The platform can be finished with any kind of material, and it can incorporate a table for dining, but this can also 'disappear' allowing the space to be used as a dance floor etc. The structure has been designed to support loads up to 9 tonnes.