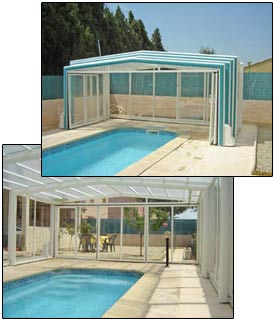 Eureka, the French company specialising in the manufacture of swimming pool enclosures, is adding a new product to its already vast range: a system using a detachable front.
This is made up of suspended panels, mounted on rollers, which allow for easy opening and shutting of the enclosure.
By not having ground tracks, handling becomes very simple and can easily be carried out by just one person.
The front is supplied with 2 or 4 panels, depending on the size of the structure, thereby offering total use of space and easy access.
This innovative design means that the width of the enclosure can be completely detached, thus
eliminating the need for a profile or cross-bar
, and thereby providing an ease of use that has not existed on the market until now.
The structure can be made up of panels measuring up to 5.20 metres in width and
can be used with the Limousin model
, as recommended by the manufacturer.