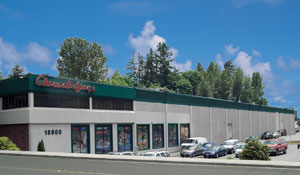 Clearwater Spas is committed to building the best quality energy efficient spas in the world using components and processes to help protect our environment. Since 1976, the Clearwater Spas brand has become associated with excellence, customer satisfaction and one of the best warranties in the world. Our dealers and distributors will tell you that becoming a dealer has been a successful business decision and has contributed to their sales growth.

Clearwater Spas is located in the beautiful Pacific Northwest in Woodinville, Washington just outside of Seattle. Woodinville's wine country is most known for its wineries, currently over 50, some of which are world renown. From wine tasting, hot air balloon rides, biking or walking along the Sammamish River trail, Woodinville provides the perfect backdrop for a relaxing hot tub lifestyle and Clearwater Spas.

A clean air factory
Clearwater Spas takes pride in helping to protect our air, environment and providing safe conditions for its employees. Clearwater Spas is the first company to produce an ecologically sound product. Our EcoSpray® process used to strengthen our shell system does not produce any VOC's (volatile organic compounds) and is a clean air solution.

More consumers are looking for high quality spas that are energy efficient, built with quality fit-and-finish standards and are easy to maintain. We are constantly innovating our product lines to provide the best possible spas to our customers.

The Clearwater difference: building a spa the smart way


Clearwater Spas builds all of their spas using E-Smart Technology – a process that utilizes energy efficiencies, engineering, economies and environment. From the ground up, every Clearwater spa is built very differently than most other spas – and for very good reasons.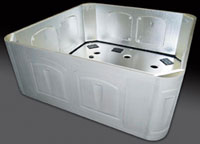 An insulate floor system like no other…
Our insulated DuraFloor foundation system, using 100% recycled ABS, provides the foundation to lift the spa off the cold ground to further insulate and protect the spa from moisture, bugs and other negative influences.

An insulation system like no other…
Our RTB cabinet insulation circulates the heat from the pumps and heater inside the cabinet, while reflecting the colder outside air away from the spa cabinet – thus maintaining the spa shell and water heat.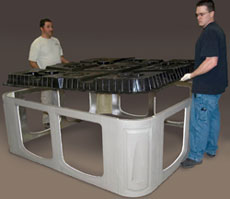 A durable cabinet system like no other…
Clearwater Spas beautiful award-winning RIM cabinet system is virtually maintenance-free and can withstand high-impacts without damage – another difference that sets us apart from others.

Attention to details like no other…
From the ergonomic comfort seating configurations, powerful pump and manifold placement to the whisper-flow technology – Clearwater Spas focuses on every little detail for the best possible spa experience.


Servicing made easier like no other…
Easy access panels on all four sides make servicing or upgrading components quick and simple. Most spas built with spray foam make it complicated and expensive to dig through the foam for servicing as well as compromising the integrity of the spa. Clearwater Spas RTB rigid insulation panels do not encapsulate the plumbing or components thus making them easily accessible for servicing.


Dealerships and distributorships are available
If you are interested in selling Clearwater Spas through a dealership or distributorship, please contact us. We would love to hear from you.

Clearwater Spas
Email: [email protected]
Website: www.clearwaterspas.com
Phone: 1-800-791-1190
18800 Woodinville-Snohomish Rd. / P.O. Box 2140
Woodinville, WA 98072