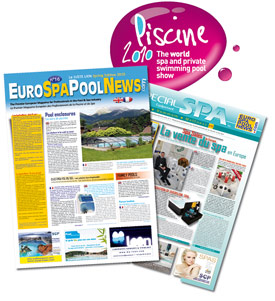 15 000 copies
English / French
Distributed
FOR FREE
to all the Professionnels : Visitors and Exhibitors
at the entrance of the World Swimming Pool Show in LYON on
November
from 16th to 19th 2010

RESERVE FROM TODAY your advertising space
on this special publication by phone on
+33 (0)4 93 68 10 21
or by email at
[email protected]
CONCERNING THE EDITORIAL
:
Send us as soon as possible your press releases
(your company's news and new product). They could be selected for an insertion in this special publication, online and
on newsletters in 1, 2… and even 7 languages
(French, English, Spanish, German, Italian, Rumanian and Czech).
They already confirmed their Ad Spaces:
4SEASONS SPAS, APF/ANNONAY, AQUACHEK, AQUASOLAR, AQUATRON, ASTRALPOOL, ASTREL, B&B SERVICES, BIO-UV, BOWMAN, CAMYLLE, CARROBIO, CLEARWATER SPAS, D1 SPAS, DOM COMPOSIT, EUROPE SPAS, EVERBLUE, FABARPOOL, FILTERS4SPAS , FLAG, GECKO, HEAT STAR, HI FITT, HYDROPOOL HOT TUBS, INTEX, LPW/COVREX, MAYTRONICS, MONARCH POOL SYSTEMS Europe, NEA PISCINES & Spas, OCEDIS-MELFRANCE, PENTAIR, PERAQUA, POOL'S, POOL TECHNOLOGIE, S.R.B.A, SANTEM, SCP Europe, SIREM, SMARTPOOL, TECHNICS & APPLICATIONS, TINTOMETER, TRIOGEN, VAN ERP, WATER TECH, WATERCO, SOLAR RIPP, ZODIAC…
COME TO MEET ALL THE EUROSPAPOOLNEWS TEAM IN LYON ON OUR STAND 6F06

[email protected]

http://www.eurospapoolnews.com

Communicate on the pool and spa market in Europe to boost your 2019 season
- (
News
)

Success of EuroSpaPoolNews' Pool Studio!
- (
News
)

Communicate in the swimming pool and spa market in Benelux
- (
News
)

If you do not come to Digital, Digital will come to you.
- (
Hot topics
)

EUROSPAPOOLNEWS 2018: READY FOR A NEW ROUND?
- (
Hot topics
)

Do not miss Le JUSTE LIEN editions of the first half of 2018!
- (
Hot topics
)
Contact EUROSPAPOOLNEWS.COM: