OUR HISTORY

Our company has been in the business of swimming pools, artificial lakes and large-scale fountain structures for over 40 years.
Five years ago, as a result of the close collaboration between our R&D team and certain market leaders in waterproofing and structural reinforcement, Biodesign technology was created. Biodesign technology is a revolutionary method of construction that completely redefines the very concept of a "swimming pool".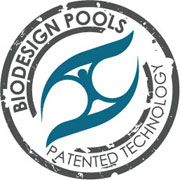 TECHNOLOGY

The most important factor in a Biodesign project is the technique used in its construction - a technique that is protected by several international patents. It consists of a natural blend of stone granulates and specially compounded resins applied by hand on a series of structural mesh layers.
This is then placed over a waterproof liner especially conceived for the purpose. The finished pool has an extremely resistant structure, waterproofing that is exceptionally flexible and which lasts longer than any traditional swimming pool.


THE ADVANTAGES OF A BIODESIGN SWIMMING POOL

• Technology that is covered by an international patent;
• The crushed marble and quartz finish looks very natural, enhancing the garden landscape all through the year;
• It blends in perfectly with its surroundings (without the use of cement, making it easier to obtain a construction permit), in keeping with global market trends that are increasingly oriented towards environmental protection;
• Fully customized: Each pool is unique and built according to the requirements of the client;
• Installation takes very little time;
• Competitive price: when compared to traditional prefabricated swimming pools;
• Biodesign technology has been used to construct several installations in Europe. It recently won first prize at the Italian Pool Award1 competition held during the Forum Piscine 2011 fair in the "Residential Outdoor - Free Form" category;
• Our building technology is compatible with all water treatment systems.

WHAT ARE WE LOOKING FOR?

Our company deals exclusively in the sale of the materials and components required for building Biodesign pools. We do not install them. We are therefore looking for professional companies specialized in this sector (such as yours) who already have the necessary infrastructure for building pools and lakes and wish to learn our technology and develop it in their region. We provide all the information and marketing tools needed to create a business with a high profit potential and commercial protection at an international level.
1 A prize awarded to the best pool professionals in Italy