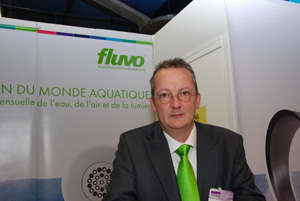 After two years spent in the marketing department of its French office, Franck JARRIER has taken over as head of the German company SCHMALENBERGER / FLUVO for France.
Located in Saint-Avertin, near Tours, for almost ten years, the French branch of the German manufacturer offers specialized equipment for public pools, well-being centres, aquatic parks, hotels, thalassotherapy centres, and others.
Among the products that built the reputation of the manufacturer, those that one recalls are its Fluvo counter-current systems, hydro-massage nozzles, showers, air-beds and underwater lights ... but also Schmalenberger pumps created specially for the industry, including a range of products designed specifically for the pool.


The harmony of water and air - Well-being for body and soul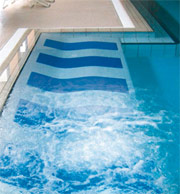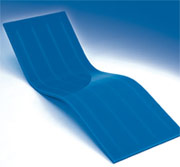 Acrylair is the first polycyclic and compact lounger fitted with a multitude of air and water nozzles that target every feel-good zone of the body. The smooth lounger, shaped for maximum comfort, creates exhilarating and invigorating bubbles to caress the "swimmer" of any shape or size. A massage focusing on specific parts of the body relaxes tense muscles, stimulates nerve fibres and blood vessels and invigorates the body.
An air and water pump system drives these two elements with enormous force through 4 air, and 3 water tubes (optional), and releases them through the numerous nozzles of the lounger.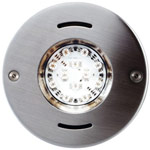 Luchs - LED Spotlights
Luchs is the new generation of RGB technology LED spotlights. They are discreet and very effective, thanks to their 100°-angle light beam. The housing of the spotlight measures a mere 170 mm in diameter and so is particularly suitable for lighting up steps, tiered seats or niches.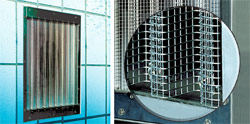 Secur - Suction
The Secur suction inlets prevent hair or clothing from being sucked in. The volume of suction is three times more powerful than traditional perforated sheets. The Secur inlets can also be retrofitted to existing equipment! All units undergo safety tests and carry the LGHA certificate. A must for any pool operator.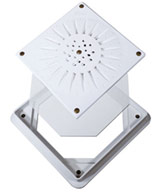 Coralle - The new output nozzle
Because of their really unique design, featuring 8 different positions, their outflow can be adjusted according to individual needs from 5 to 20m3 / h and pressure resistance from 50 to 800 mbar. The system is suitable for concrete / tiled pools and adapts to a 250x250 mm weft. The tubes soldered while fitting to the base plate ensures flawless connections, and are suitable for pipes in any material and are available in all RAL colours.
INOX: Extending our product range in the Fluvo hydro-massage selection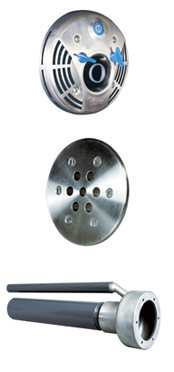 •
Massage nozzles in stainless steel
These new nozzles can, of course, be installed in various other types of pools to give them a touch of class. Our Balance (Q = 12m ³ / h) and Comfort (Q = 20m ³ / h) nozzles are available in stainless steel. The nozzles can be assembled indifferently with our ABS, stainless steel or bronze installation kits.
•
Rio Compact hydro-massage kit in stainless steel
Our newest product offer is our kit in stainless steel for Rio Compact hydro-massage integration. In versions that can be used for various types of pools. Thanks to its increased stability, it is also suitable for prefabricated pools. For pre-assembled units, we propose nozzles in ABS and also in stainless steel.
•
Rondo stainless steel counter-current equipment
The new pre-assembled stainless steel unit that we offer for various types of pools is inspired by the Rondo that won an award in 1997 (the iF Design Award). This counter-current equipment harmonizes very well with other features in stainless steel and integrates perfectly into stainless steel pools. With a diameter of only 280 mm, the new Rondo Stainless Steel unit can be used even in smaller sized pools.
•
DN100 suction with stainless steel grill
This new stainless steel grill is available in two versions - for ABS Mounting kits or DN100 bronze. They have a beautiful optical effect, for example, in stainless steel pools.
•
The stainless steel switchbox to create pressure waves
To create a delightful optical impression for your pool, we now offer also a switchbox with a stainless steel plate, allowing you to control the pressure waves of your air-actuated Fluvo pool features from within the pool.