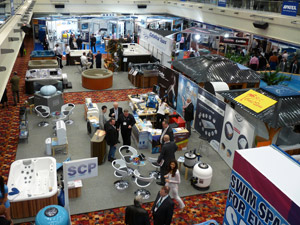 Official visitor figures for Spatex 2011 indicate a continuing recovery, with industry optimism that this will be reflected in the fortunes of the UK pool and spa trade.

Prepared by market intelligence agency WRS-ispy Analytics, the results show that attendance has risen for the second year in succession from its 2009 low point, with total visitor numbers (trade, non-trade and public) for the three days of the event amounting to 1388. This compares with 1323 visitors in 2010 and 1232 the year before that.

Show manager Michele Bridle comments: "We have been very encouraged by the visitor figures achieved this year. Based on the numbers, there is every indication that we are, indeed, in a recovery phase. The challenge ahead will be to continue the momentum for the coming years and I see no reason why Spatex cannot regain the popularity it experienced prior to the economic downturn."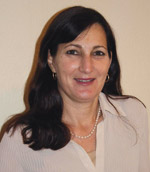 Michele Bridle
This is the second year in which the show has been run on Saturday to Monday rather than Sunday to Tuesday. Interestingly, the official figures demonstrate a relatively even spread of visitors across the three days for both years in which the new schedule has been operated. When the show was run under its previous schedule of Sunday to Tuesday, the first two days typically were much busier than the closing day. That said, numerous exhibitors at the 2011 event subjectively reckoned the first day seemed quiet.

Michele Bridle says: "The overall reaction to the weekend start has been extremely favourable for the second year in a row. The majority of exhibitors feel that they now have more time to spend with customers over a wider timeframe as the focal point is no longer the traditional Sunday being the busiest day."

Puzzlingly, the attendance figures for non-trade and public visitors are actually down on those for 2010 – to 130 from 145, despite a major PR push. However, Michele Bridle is pleased to have received significant positive comments from exhibitors: "In retrospect we can now see that 2006/2007 were the peak 'public attendance' years whereby we did very little to encourage their participation as it simply was not necessary. This year, in acknowledgment of the economic downturn, we specifically undertook a promotional campaign by using the BSPF Public Relations Company Bottle PR together with Go Publishing [publisher of the BSPF's official magazine], in an effort to raise national awareness of the event. Bearing in mind that the industry is coming out of a recession, we were very pleased to receive so much positive feedback from exhibitors regarding the quality of enquiries from both the trade and public."

During the exhibition itself, several people we spoke to expressed their concerns about different aspects of the Spatex show. However, in a straw poll designed to get an overall feel for the show following the event, exhibitors across the board have professed themselves satisfied and even pleased with its effectiveness. The following is a selection of the comments we have received.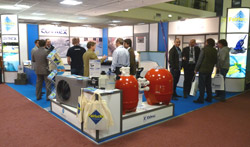 Paul Webb of Fairlocks, for example, comments: "Once again we enjoyed a busy time at Spatex; our increased stand size and new products certainly seemed to work well. Although Saturday started a little slowly it was soon busy, and from then on we always had people on the stand. We are pleased with both the quality of existing and potential new customers we spoke to over the three days. In fact, I suggested to Michele that perhaps in 2012 the show should/could be extended to four days – maybe in recognition of 2012 being an Olympic year, making it a marathon event, not a sprint!"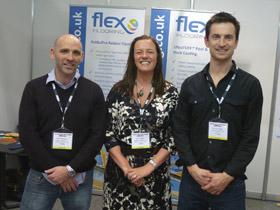 From Flex Flooring, the company previously widely known as Poolsafe, Katie Pepper says: "We enjoyed a busy three days, particularly on the Sunday and Monday, and caught up with lots of familiar faces. We also made contact with a number of new visitors who had some interesting projects in the pipeline. Just over half of the visitors to our stand were people that we currently do not work with."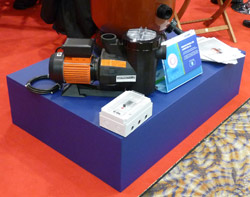 Shelagh Holden of Astral Pool (who had returned to Spatex after a break) said she was very surprised at the number of customers who attended on the final day, reckoning the stand was busier on that day than any other.

At B. Haythorne, Mike Cramp was also pleased with this year's event, commenting: "It was another good show for us. I don't know the figures but I would say that numbers are still down on the pre 2009 "glory years", but we still came away with some good leads and enquiries from people that we haven't worked for before, and that is what it's all about."

Pureplus director Jake Fronda ventured: "This year Spatex was better than we could have hoped for! Being into our second year and after our numerous ad campaigns we have collected a few dealers from last year. This year we rekindled relationships that had been off the boil from the previous product we had been involved with, and the general feedback from those dealers has been great!"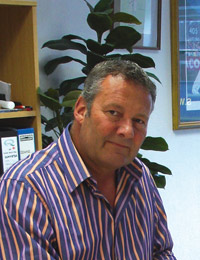 Stephen Crabb
Finally, Catalina Spas' Stephen Crabb said: "Although we felt the numbers of visitors to the stand were down on previous years, we had one of our best shows ever for new orders taken. The visitors to the stand seemed on the whole to be decision makers and what was very encouraging was the positive attitudes."



[email protected]

http://www.spatex.co.uk

Some of the many Pool and Spa novelties to discover at SPATEX 2019
- ( News )

Where the UK's SPATEX Show leads, all others follow!
- ( News )

Don't miss the best event in the UK's wet leisure calendar - SPATEX 2019!
- ( News )

Some of the many Pool and Spa novelties discovered at SPATEX 2019
- ( New products )

Novelties not to be missed at SPATEX!
- ( New products )

Come and meet the EuroSpaPoolNews.com team at the SPATEX SHOW - Booth U152 – 6th to 8th February
- ( Hot topics )