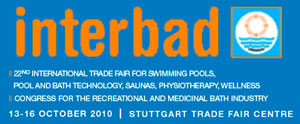 The international trade fair interbad, which will be held at the New Stuttgart Trade Fair Centre from 13 to 16 October, has further extended its Congress programme this year. I
n addition to the trade fair itself, during which more than 420 exhibitors from home and abroad will present innovations and new products relating to swimming pools, saunas and spas, the first-class Congress programme is a key element in the interbad concept. The talks and seminars in different Congress modules will provide detailed know-how for decision-makers from the public swimming pool sector and for proprietors and managers of privately run swimming pools, hotels and spas.
The
62nd Congress of the German Association for the Recreational and Medicinal Bath Industry (DGfdB)
will feature for the first time a specialist conference entitled "Private Swimming Pools/Swimming Pool Constructors' Day" and will also examine developments in the field of energy efficiency. The newly formed action alliance "ProBad" and the
1st "Public Value Award"
will also be presented. The
Spa Market Conference
, which is being organised by Spa Business Verlag, is aimed at owners and managers of hotels, day spas, beauty lounges, thermal baths, health resorts and health clubs. This Conference will present industry trends and communicate technical knowledge and business know-how.
62nd Congress for the Recreational and Medicinal Bath Industry:
high-level exchange of technical information

The Congress for the Recreational and Medicinal Bath Industry will be held during interbad 2010 for the 62nd time and is being organised by the German Association for the Recreational and Medicinal Bath Industry (DGfdB).
Dr. Fritz Schramma,
President of the DGfdB, will officially open interbad and the Congress on 13 October 2010. Leading politicians from Baden-Württemberg and Stuttgart have been asked to give some welcoming addresses. Andreas Felchle, Vice President of the German Swimming Association and Spokesman for the action alliance "ProBad", will also talk about this initiative during the interbad opening ceremony.
The Congress programme will show the Congress delegates trends and technical developments in different topic areas during the specialist conference entitled
"Public Baths"
(13 and 14 October 2010). The main topics will be the challenges involved in constructing and operating public baths, and the reduction in operating costs using energy optimisation concepts. Together with the German Sauna Association, the German Association for the Recreational and Medicinal Bath Industry will present the interactions between saunas and recreational/medicinal baths, and will describe important aspects in the construction and operation of saunas during the specialist conference entitled
"Saunas"
(13 and 15 October 2010). During the specialist conference entitled "Physical Therapy" (16 October 2010), the DGfdB and the German Physiotherapy Association (VDB) will present new wellness experiences with Slim Line. The specialist conference entitled
"Private Swimming Pools"
(15 October 2010) will make its debut at interbad 2010. Karl-Heinz Linderich and other industry experts will talk about some important aspects of private swimming pools during the Conference. Different special events will complement the specialist conferences during the 62nd Congress for the Recreational and Medicinal Bath Industry. The topics in these events will include energetic optimisation of public swimming pools, the future of solariums and the importance of social value-added through public swimming pools.
Another premiere during interbad 2010 in Stuttgart will be the presentation of the Public Value Award, which is being offered for the first time this year and will honour the future viability of German swimming pools.
Spa Market Conference: another permanent feature of the interbad Congress


Spa Business Verlag
has also managed to attract the services of
renowned experts and industry insiders
(for example Uwe Barth, Erding Thermal Baths / Josef Nölly, Rössli Wellness Hotel in Weggis / Ferdinand Thoma, Auerhahn Wellness Hotel / Dr. Harald Stossier, Viva Mayr Centre / Anna Bjurstam, Raison d Etre Spas / Dr. Franziska Fehle-Friedel, Parkhotel Bayersoien / Marlies Lohmann, Dünenmeer Hotel & Spa, and many more besides) for the 3rd Spa Market Conference during interbad 2010. This event is aimed at owners and managers of stay spas and day spas, i.e. hotels, day spas and wellness complexes, and will provide information on developments in the industry and valuable know-how relating to management and spa business.
The main topic in 2010 will be "Signature treatments and private label cosmetics
– how to create your own rituals and programmes, and what factors you should consider in this respect". Industry insiders and international speakers will make suggestions and discuss how a spa's profile can be increased and made more successful through regionality and authenticity.
During the Congress block entitled
"Spa Building"
, the speakers will give talks on going green and the topic of "Spa in spa", i.e. luxury cabins, themed cabins and private spas. The
"Spa Around the World"
section will illuminate business aspects and facts from the spa markets in Germany, Austria and Switzerland. The
"Visions of the industry leaders"
from the hotel & resort, day spa, medical and thermal baths industries, as well as the Congress section entitled "Spa Business" will provide Congress delegates with additional know-how for their day-to-day work – from personnel recruitment and key figures and benchmarks through to attracting new customer target groups with corporate health. Decision-makers from wellness hotels, health resorts, thermal baths and day spas, as well as students from tourism and health industries will find a wide range of informative and practical talks in the Spa Market Conference. We would like to wish them a very warm welcome to Stuttgart.
It will be distributed to all visitors and exhibitors at the entrance of Interbad Fair that will take place in Stuttgart from 13 to 16 October 2010.
– from 13 to 16 October.