Procopi launches an idea as effective as original: to make available personalized marketing campaigns to its customers, allowing them to exploit their commercial database.
The principle is very simple: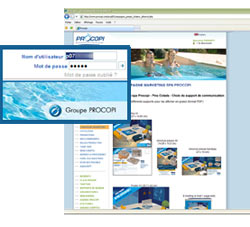 one just needs to connect to the company's website (professional section) where various ready-to-use communication media are available for a selection of products from the manufacturer. One just has to fill in the necessary information by inserting their name, contact information, special offer dates, prices, their own logo and a text of their choice in order to finalize the whole document. Procopi thus worked out a selection of 15 different campaigns out of 4 relevant media: A3 small poster, A5 mailing, E-mailing and press advertisements.
The use of these media is free and only a very small financial participation is required for the printing of the paper documents. Nothing is charged for the electronic documents (E-mailing and press advertisements). This system offers the customers powerful tools to communicate efficiently and guarantees a return on investment at low cost.



| | | | |
| --- | --- | --- | --- |
| | | | |
| E-mailing | Annonce presse | Affichettes A3 | Mailing A5 |