A QUICK, SIMPLE AND ROBUST CONCEPT

The Mondial Piscine concept is based on a system using polypropylene panels (filled with concrete). Developed by our design team, it is one of the only construction processes on the market to have received technical approval from the French building organisation CSTB (Centre Scientifique des Techniques du Bâtiment). This enables us to offer a ten year manufacturer's warranty on our products. We also conform to the BAEL standard.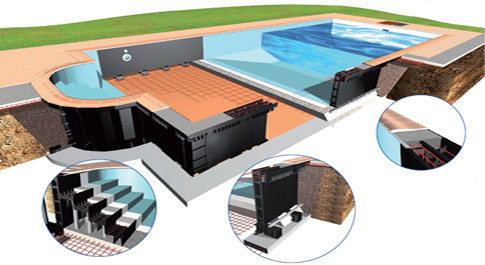 Our panels measure 1.20m or 1.50m in height by 1m width and 15cm in thickness, and weigh only 14kg. They are injected on a press of 1700 tons. They are completely modular, enabling you to create both deep and flat-bottomed pools.

A system of vertical reinforcement on a grid frame, welded to the bottom of the pool, and a horizontal reinforcement at the top, makes this a very solid, homogenous structure. An excavation of 20cm around the pool is sufficient.

Assembly of the panels is facilitated by a specially developed sliding system. Mounted on self-aligned and height-adjustable blocks means the pool is always perfectly level.

A system of quick-to-install overflows allows you to create a peripheral double wall-tie and to attach the edges before the filling stage. The sealant parts are factory-assembled and are supplied mounted on the panels. The steps are modular and built in reinforced concrete. The whole pool structure is therefore made entirely in one piece.