SWIMMING POOL AND SPA NEWS

Watkins Wellness Celebrates Success of Top Dealers 'The Watkins Way'
More than 330 travelers representing the Watkins Wellness™ family of brands traveled to Hawaii in February to celebrate their success and achievements over the past year. Wellness™ family of...

Preventing Pee in...
The National Swimming Pool Foundation® (NSPF®), has recommendations to improve water and air...

A New Extrusion...
For over 20 years Ocea has been recognised for the quality of its customized systems and its wide...
All news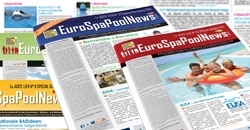 All 2017 Special Editions of Le JUSTE LIEN!
Several editions of Le JUSTE LIEN, including a brand new one, are waiting for you in 2017 to provide you with regular information on the Pool and... All hot topics