SWIMMING POOL AND SPA NEWS

2017 NDPA Educational Conference: "The Next Generation of Water Safety"
February 20, 2017 - (Pittsburgh, PA) - The 16th annual National Drowning Prevention Alliance Educational Conference will take place at the Omni William Penn Hotel in Pittsburgh April 10 - 14. The...
The Big Pre-Season...
It is THE big issue of the first semester, and the last one to be published before THE season! A...

Tecnova, tremendous...
Peraqua Austria & Diasa Spain have successfully participated at the 1st Tecnova – Piscinas in...
All news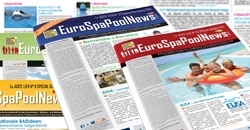 All 2017 Special Editions of Le JUSTE LIEN!
Several editions of Le JUSTE LIEN, including a brand new one, are waiting for you in 2017 to provide you with regular information on the Pool and... All hot topics