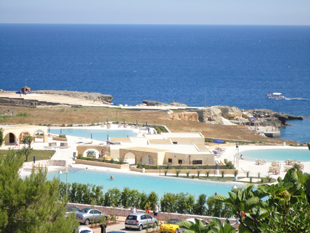 BIODESIGN Pools offers a patented concept to deliver unique creations that perfectly integrate the swimming pool into its surrounding environment.
The heart of this innovative concept lies in its noninvasive construction process. A layer of natural aggregate is spread manually over a system built with structured mesh that covers an impermeable layer with strong elastic properties.
The whole process results in a solid structure with highly reliable elastic sealing that reduces risks of damage caused by landslides.
Moreover, the concept provides a whole array of chromatic finishes by using natural stones, such as Marble or Quartz, in order to create a pool offering characteristics of the white sands of exotic islands or the fresh green waters of mountain lakes.