EcoSalt®2 is ideal for pool sanitisation. This version from Davey which is commercialized by SCP Europe is simpler and more economical, with a function limiting the production of chlorinated salt when pool cover is used.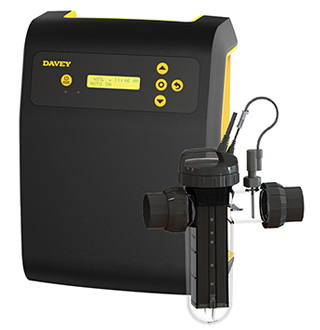 It also functions in 'super chlorination mode', to be turned on during peak times in the pool.
This next generation chlorinator is ideal for above ground residential pools, in ground residential pools, plunge pools, swim spas (up to 75 m3).
It represents an eco-friendly low cost chlorine solution providing a soft water quality of saltwater in the pool or the swim spa.
Indeed, the chlorinator operates with only 15g salt level as it has a switch mode power supply to accommodate low salt chlorine production and protect the cell.
The latter is a next generation high performance reverse polarity in-line cell with integrated safety flow switch.

The LCD interface of EcoSalt®2 is comprehensive user-friendly and comprises safe Low salt and No Flow indicators.

It is also suitable for use with mineral pools. The operating salt level is from 1500 to 6000 ppm.