The new Pleatco PureStart disposable sediment filter cartridges are made from unique melt-spun filtration technology for perfect depth filtration. The cartridges attach to a garden hose and capture dirt particles filtering the water before it enters into a spa or a pool.
By using a Pleatco PureStart® Cartridge the city water that is used to fill a pool or spa is filtered as the basin is filled, with a filtration fineness of up to 5 microns trapping elements such as magnesium, iron and calcium deposits. This means less chemicals when starting up or rejuvenating a pool or spa. These filters are disposable and can be used to either fill or top off a body of water of any size.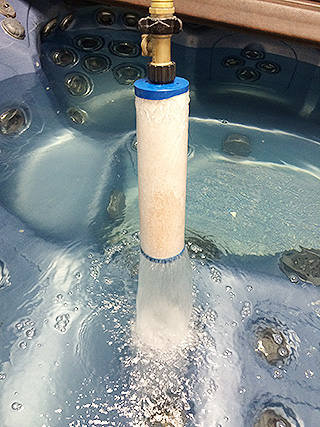 Pleatco PureStart® filters come in two sizes.
The smaller PPS2100 filters up to 10,000 gallons of water and is ideal for spas and hot tubs, kiddie pools, above ground pools, swimming spas and topping off large pools. This is an ideal product that a service pro or a pool or spa owner themselves can use with ease.

The larger PPS6120 filters up to 40,000 gallons of water is mainly used by service pros for filling large bodies of water from above ground pools to swimming spas, to in ground pools and sport facility pools. PureStart® filters are engineered to float in water so they do not damage the pool. Smooth curved end-caps prevent the brass end of the hose from resting against the pool finish. This allows the filter to safely rest in a pool without damaging the walls.

These filters have a very large surface area of depth filtration media providing:
• More flow through put (Faster Pool Fills)
• Higher Dirt holding capacity (Compared to competitors)
• Extremely long lasting product life
• Multiple Pool Fills

Jordan Hayes, Leisure Time Pools and Spas: "I've now put about 10,000 gallons of water through this new Pleatco PureStart® depth filtration pre-fill cartridge. It captures dirt particles and perfectly purifies the water like I need it to, and performs so fast that I don't have to dedicate a huge amount of time to baby-sit a filling hot tub or pool. It allows a faster, cleaner fill than all of the other filters I've used and has made my job so much easier!"


| | |
| --- | --- |
| | |