On its website, Pleatco offers an online tool that allows you to easily replace your pool or spa filter cartridge of any type, make or model with a Pleatco filter cartridge.
This tool allows you to find it by 3 search modes :
- by the reference number
- by measure
- by manufacturer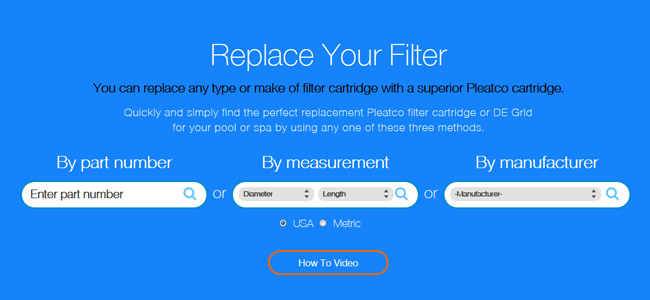 The simplest way to identify the make and model of filter cartridge you wish to replace is to locate the part number on the end cap of the cartridge.

If you can not find it then you can measure the filter cartridge to find the correct replacement.
You only need to measure:
- the outer diameter of the cartridge, from edge to edge.
- the overall length of the cartridge from end cap to end cap, without including the handles or thread.

Once you have these two measurements simply use the filter finder and select the measurements in the drop down menu.

In one click, the site will propose you the model of filter cartridge PLEATCO adapted to your swimming pool or your spa!
Click on the image to see the video :