Two new models have been added to Zodiac's TORNAX PRO robot range, available from SCP in its 2017 catalogue - the TORNAX PRO RT 2100 and the TORNAX PRO RT 3250.
The former is intended to clean the floor of the pool (up to 8 m x 4 m), while the latter brushes and suctions debris and dirt from the floor and the walls of the pool (up to 10 x 5 m).
The TORNAX PRO functions in both in-ground pools and above ground pools with rigid walls, regardless of the shape of the pool, driven by its crawler traction system. It moves through the water with the help of a pre-programmed displacement system with 2-hour cycles to clean the floor.
Compatible with all coating types, liner, shell, reinforced PVC, painted concrete or tiles, it can, for this latter type of covering, be equipped with a special tile brush (in option) for optimal cleaning.

With its ultra-light weight of only 5.5 kg, it is very easy to lift out of the water using its carrying handle after the cleaning cycle ends. The filter is easily accessible from the top of the robot, making maintenance simple.

The TORNAX PRO is equipped with a switch box with its pedestal; an ergonomic transport trolley can be added as option.
It is fitted with a filtering tank with a filtration fineness of 100 μ (fine debris) and a capacity of 3 L, and several filters are available (optional) for various kinds of debris (very fine 60μ or large 200μ). It comes with a 2-year warranty.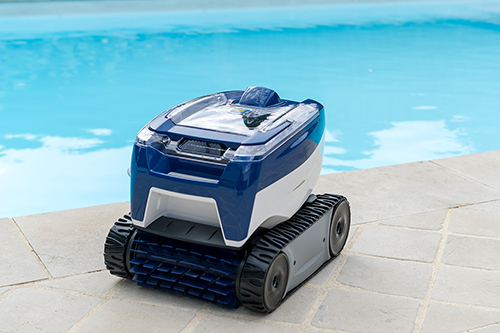 RT 3250