Dolphin Wave200 Maytronics XL is intended for pools up to 33 m in length. With programmable movements and his orderly navigation system, it can achieve in record time a thorough cleaning.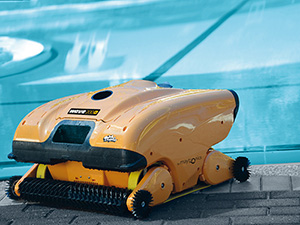 It features: intelligent technology integrated gyro navigation (recognition and obstacle avoidance), an electronic compass with multiple scanning modes, and brushes that operate with a speed 1.5 times the speed robot movement.

Note its intuitive programming on a digital interactive interface (MMI), to include a diagnostic aid in line when it is put in "Technician" mode (integrated interface with USB connection).

Its main features are a suction rate of 34 m3/h, a speed of 12 m/min in "normal" mode, for a cleaning capacity of 450 m² per hour.

The cycles last from 1 to 8 hours, with delayed start or not.