The Chrono MP3 from Hexagone is a modular robot designed to meet the requirements of all public and commercial pools of 20 m to 60 m, covered or outdoors.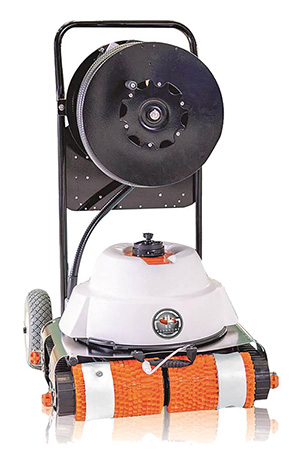 Its exclusive configurator allows one to choose the width of the chassis depending on pool size, length of the floating cable needed, the type of filtration desired (from 5 to 2000 microns), the trolley that is best adapted, winder, hoist, etc. and also the coating of the brushes or sponges best adapted to the pool surface to be cleaned.
With 4 cleaning programmes (ultra short, short, medium or fast) and a "Magellan" electronic management system the robot is equipped with a second generation gyro-compass, 2 infrareds and a rotation detector.
It auto-adapts to the dimensions of the pool and continuously manages its trajectories so as to reduce cleaning time.
Its exclusive RoboMatic 4X4 system enables it to disengage itself from any obstruction and to climb all kinds of slopes as well as walls (option).

To note, it has an "umbrella" type of opening for cleaning the filter bag in record time, without touching the dirt and with very little water.
It can be piloted remotely in low and high speeds from the pool deck.