Pahlén has launched the MiniMaster with pH/Redox. An intelligent measurement unit for continuous monitoring of water quality and automatic dosing of chemicals in the swimming pool.
MiniMaster measures and controls Redox and pH levels in the pool water using two independent electrodes. Current measurements are presented on an electronic control panel with easy to see color LED´s. Green light means a pool in perfect balance with crystal clear water. The unit is connected to the pool water treatment systems and is easy to calibrate and use.
MiniMaster with pH and redox is a new product that is part of Pahlén Pool System with the intention of creating an environmentally friendly, cost-effective and trouble-free pool ownership.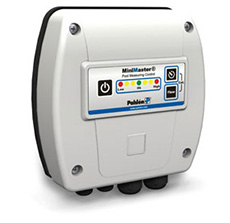 Electronic control panel with LEDs
"With this new product we are covering the needs of all types of private pools" says Gunnar Samuelsson, Marketing Manager at Pahlén.
Pahlén manufactures and sells products for swimming pools since 1967. Through distributors and retailers it provides equipment for public, hotel and private swimming pools.
Its products are installed in swimming pools worldwide. Seventy percent of the production is exported to more than 50 countries. The company head quarter and factory are situated in Upplands Väsby, Sweden.