Apart from its regular offer of PVC slats, OASE has been exporting a range of high quality polycarbonate slats for pool covers over the last 10 years to over 30 countries.
These slats are available in three types of profiles, namely, a standard profile in 60 mm, the much sought-after profile in 83 mm with anti-algae hinges, and the anti-algae luxury profile in 63 mm, manufactured in materials that are extra-resistant to UV rays.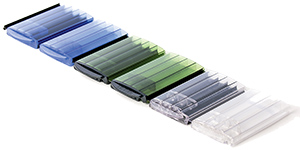 The palette of colours of the OASE Polycarbonate slats
Various models are available in the Solar Version: Vived Aqua (blue), Garden Green, Crystal Clear (transparent) and Silver (silver look). The Oase Deluxe are anti-algae solar slats 83 mm wide and 16 mm thick.
They are characterized by a dark hinge that prevents the formation of algae. Furthermore, their sturdy profile helps to make the covers even more solid and thus also safer. These cover slats contain 50% more air, maximizing their insulating and water warming qualities.
The Oase Prestige Anti-Condens Silver Solar slats have a transparent silver coating that prevents one from seeing through them, but which also lets sunlight in. As a result, the condensation in the slats of the cover is no longer visible. Among the polycarbonate slats made by the manufacturer, the Oase Top-UV Solar slats are the most durable, thanks to the tri-extrusion process used. The extra UV protection also extends their life cycle.