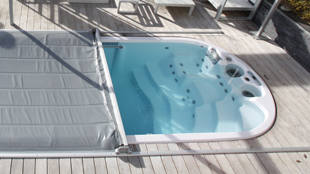 A spa is the ultimate relaxation space dedicated to wellbeing. Why interrupt this moment of relaxation with the disagreeable task of having to cover your spa after your session? To provide a solution that offers minimum effort, T&A has developed an automatic isothermal spa cover.

SpaFlex is a system that can be easily adapted to in-ground spas that measure up to 2.7m in width and 6m in length. The mechanism can be built into a pit (40cm x 40cm) or installed on the terrace. The system is controlled with a key-operated switch and the cover closes in less than 15 seconds.

The cover is controlled using a system equipped with a high quality, 316L grade, stainless steel mechanism and is operated by a powerful hydraulic motor. The cover glides over the spa's surface thanks to two rails fixed to the terrace. The quality of the cover considerably limits evaporation and heat loss. SpaFlex can be easily adapted to both existing and future spas.

STAND 6B108