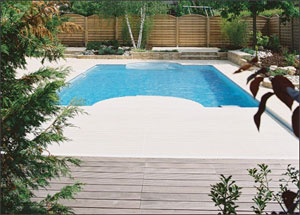 The French manufacturer of automatic pool covers TREMA FRANCE is offering rigid covers in dry benches. The Stradyna model in the Classique range is shuttered and hidden behind the pool in a separate pit.
This shutter is made with 95% French materials except for the exotic wood. It goes well with new products or can be adapted to existing pools measuring up to 12.5m x 25m.
This shutter can also be completely detached from the pool and is fitted with a standard anti-tear system. It can be put in areas reserved for technical equipment under the paving stones, around the skimmers or the counter-current swimming system, or with some preparation in a specifically configured area. Because the buffer maintains the line along the whole shutter, with horizontal guidance in the pit, it can be adapted to infinity pools as well, and even level-deck pools.
The PVC shutters are guaranteed for 5 years and are linked by strap clamps. In addition, access to the mechanism and shutter cleaning is facilitated.