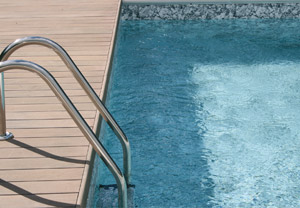 Flagpool introduces three new coatings in the Imperial Marble range, which faithfully imitate the coloured veins of luxurious marble pools.
The streaks and colours of real marble are imitated in its Pearl Black, White Florence and Sky Blue, with the added advantage that comes from using synthetic material during construction.
Decorated with marbled arabesques, black marble, or Brazilian sky blue, it has an extraordinary resemblance to marble at a very reasonable cost.
The new range is the fruit of the innovative NG11 Glossy Printed technology developed by Flag SpA in Rome.
The result is a high-end product - the coating surface meets European EN 15836-2 standards - that at the same time has better resistance to light, micro-organisms and sunscreen products. Like all NG11 coatings, new raw materials have resulted in a product that is highly flexible, easier to solder, and which reduce the time needed for laying.
This range will be extended soon to include new colours.