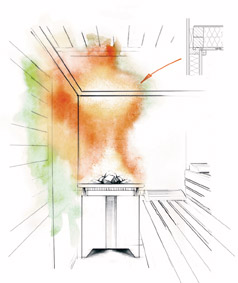 Klafs,
the sauna and spa manufacturer, presents the professional version of its
green sauna package
. The highest degree of sauna heat loss is 75% due to ventilation and heat transmission via the ceiling.
The green sauna package focuses on these points: Up to 35% of energy may be saved by using the
Klafs
air-conditioning manager and the
EcoPlus
thermo cover. The air-conditioning manager regulates the correct quantity of fresh air supply and ensures air exchange tailored to individual needs, according to the fresh air amount actually needed.
This reduces the amount of electricity, if air can be exchanged at a low level. And the
EcoPlus
thermo cover ensures that the heat remains for a much longer time in the sauna room. Thus, there is less need for reheating.