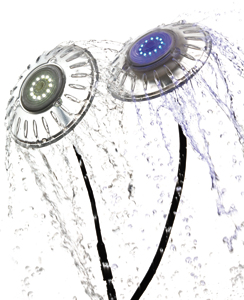 Aqua Technics Europe
, one of the leader companies in the underwater illumination sector, manufactures high quality, long life cycles and low energy consumption (10 to 20 % of traditional light sources) LED-based products.
Its eco-friendly Aqua De-light pool lighting product features, among others, beam angle up to 160°, robust polycarbonate casing, ultra high wattage LEDs, very long life and vivid and saturated colours.
Thanks to its highly motivated R&D team, constantly working on consequent product improvements, the company unveils a new further enhancement of the
aqua de-light Illuminator Standard
: it now offers concentrated power in a new, ultra-slim guise hermetically sealed compact packaging.