25 YEARS EXPERIENCE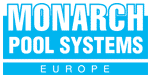 MONARCH POOL SYSTEMS (MPS) is based in Perth- Australia. MPS manufactures Salt Water Pool Chlorinators and Chlorine + pH Controllers for more than 25 years. The MPS products are distributed worldwide (MONARCH-USA, MONARCH Europe, Bio-Lab in South Africa, etc…). In Europe, they are distributed by the Company MONARCH POOL SYSTEMS Europe based in Villeurbanne near Lyon - France.

Priority is given to Research and Development in order to improve reliability and global quality of products. The quality of distribution associates excellent service and marketing support to the MONARCH products.


SALT WATER CHLORINATORS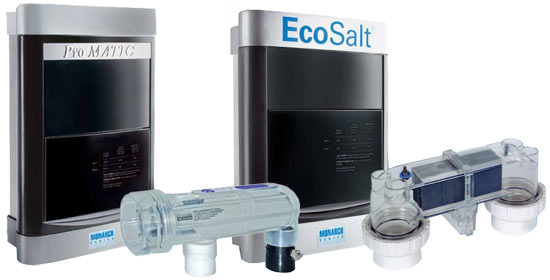 The latest generation of Salt Water Chlorinators -
Pro-MATIC
with Self cleaning cell and the option to have the pH controller built into the unit- has the following characteristics:
Salt content limited to 3g/litre only thanks to a very efficient cell.

High grade UV stabilised rust and weather proof cabinet.

Very efficient self-cleaning system with large cell surface area available.

Alarms in case of low salinity.

Automatic pH control with quality pH probe and heavy duty peristaltic pump.
Technical innovations:


• Improved conception and "design" for the electronic casket.
• Connecting simplified shutter for controlling the production of PROMATIC according to the position of the flap
• Safety of the self-cleaning cells which are now provided with a device avoiding the overpressures.
• Compact devices for small technical premises.